FLPD Citizens Report Form Download
When complete email to: records@fairlawnpd.com
Looking to report Unemployment fraud? This needs to be reported to the State of NJ at https://www.myunemployment.nj.gov/help/contact-us/reportfraud/
---
All COVID-19 updates will be published at fairlawn.org/covidupdates
FLPD Response during COVID-19 situation
If you are quarantined, sick, injured or ill, notify the dispatcher when you call for service, whether it is 201-796-1400 or 9-1-1.
Officers that respond to your home for medical and other calls for service will ask to speak with you outside of your home and at a safe distance. Keep in mind this procedure also protects you and your family. A Police response for minor incidents is up to the discretion of the Tour Commander depending on severity of the incident being reported and call volume. This means you may not receive a Police response for minor incidents which are not a threat to public safety.
Please avoid responding to Police Headquarters unless you are reporting a domestic violence incident, seeking a domestic violence restraining order or reporting a serious crime or incident. This procedure has not changed. When in doubt, call ahead!!! The following services are suspended until further notice:
Walk in reports of fraud / identity theft / check fraud. This reporting can be accomplished by downloading and filling out a FLPD Citizens report on the Forms page. When completed, call ahead for drop off along with your supporting documents at Police Headquarters. If you can scan and email your documents, you can send them to records@fairlawnpd.com
COVID-19 Fraud prevention tips are available at https://www.justice.gov/coronavirus/combattingfraud
Thank you for your cooperation.
Divisions
The Fair Lawn Police Department consists of the divisions listed below. To learn more about each one, click on the respective division link.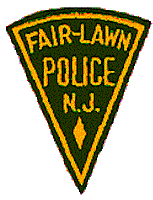 About
The Fair Lawn Police Department was founded in 1930. To see more about our long and proud history, and where we're going in the future, click the links below.
Services & Links
We offer a wide variety of services and useful links including but not limited to:
In memory of PO Mary Ann Collura #136 and PO Edward Egan #174 
Follow the Fair Lawn Police Department
Fair Lawn Police Department Location
8-01 Fair Lawn Avenue, Fair Lawn NJ 07410
GPS Coordinates: 40.9363768,-74.1321034
---
Ret. Detective David Boone, Fair Lawn Police Department Chaplain
Rabbi Andrew Schultz, Fair Lawn Police Department Chaplain
Pastor Deric Taylor, Fair Lawn Police Department Chaplain
Contact Us
Non-Emergency: 201-796-1400 (24 Hours/7 Days)
Emergency: 9-1-1 (24 Hours/7 Days)
Overnight Parking: 201-794-5399, between 6pm - 2am
Community Policing: 201-794-5365, generally M-F 7am - 3pm
Detective Bureau: 201-794-5410, generally M-F 7am - 11pm
Police Records: 201-794-5418, generally M-F 8am - 4pm
Traffic Safety Bureau: 201-794-5413, generally M-F 7am - 3pm